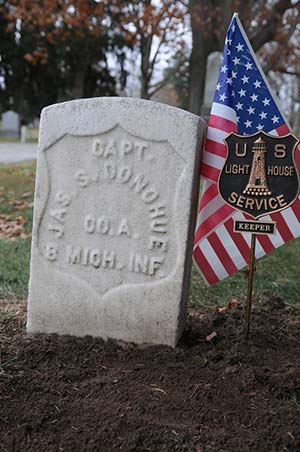 SATURDAY, SEPTEMBER 7th, 1-3pm
South Haven's Lakeview Cemetery
Visitors are encouraged to park near the center of the cemetery and walk back to the starting point which will be just inside the Bailey Avenue entrance at the grave site of Captain James Donahue, South Haven's lighthouse keeper from 1874 to 1909.
Throughout the walking tour organizer Roger Horton will add facts and trivia regarding the cemetery which counts over 10,000 grave sites.
The tour is another in a series of events organized by HASH in celebration of South Haven's Sesquicentennial year.
Captain Donahue's story will be told by Pam Chappell, followed by Linda LaRoque talking about Betty Davis, South Haven's first female mayor. Donald Goodwillie, Jr. will follow with the story of Stanley Johnston, famous for developing all of the Haven variety of peaches. Bev Smith will then explain the marker placed just last year for the victims of the 1951 Northwest Airlines crash that happened in Lake Michigan off South Haven's shore in 1951. Visitors will see another newly marked grave site for Mary Williams, a slave born in 1820. Bill Growden will tell the story of early settler Judge J.R. Monroe and Sue Hale will share memories of her family, also early settlers. Former cemetery sexton Steve Hinz will take walkers to the Civil War Monument in the center of the cemetery. Finally descendant Judy Allers Schlaack will share the story of Captain Charles Allers who sailed the world encountering pirates.
~ Free and open to the public ~
Lakeview Cemetery
191 Bailey Ave
South Haven, MI 49090