A collection of writings and images of the South Haven Lighthouse. All proceeds go to restoring the South Haven Lighthouse.
~ SOLD OUT ~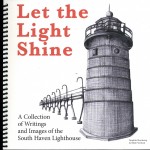 Each year South Haven's historic lighthouse leads thousands of water lovers, boaters and beach-goers to our Lake Michigan shoreline. It has done so for more than a century.
Built in 1903, our beacon stands thirty feet tall and is one of the more widely photographed lighthouses along the extensive Michigan coastline. Its original catwalk links the tower to the shore: the catwalk is one of the only four that survives in the Great Lakes State.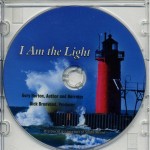 Our lighthouse is now owned by the Historical Association of South Haven (HASH) which has assumed custodianship of this red sentinel which stands upon the "Big Blue Water." HASH is undertaking a campaign to raise funds to preserve the light for future generations to enjoy.
As part of the "Save the Light" efforts, a contest was held to produce this chapbook with writings, original art and images submitted by those who wished to express their love for the iconic beacon that marks the head of our pier and the mouth of our picturesque harbor. We are grateful to the participants and hope you will enjoy their sincere contributions.
The acquisition of this chapbook helps to preserve the South Haven Lighthouse, allowing it to stand as a tribute to the past and a scenic pleasure to experience in the present. Purchasers of Let the Light Shine join in the efforts to sustain this proud edifice for coming generations that they also may touch history, partake in the scenic vista, and create fond memories.
To learn more about our treasured lighthouse's history, local efforts to preserve it and how you can donate, peruse this site created for the lighthouse – southhavenlight.org. Contributions are tax deductible.
Kindly,
The Chapbook Committee