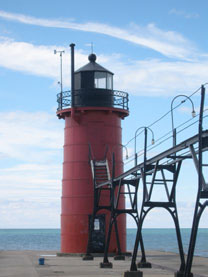 The Historical Association of South Haven will have a ceremony to officially receive the deed for the South Pierhead Light, on Thursday, August 9th at 1:00 PM on the lake bank in front of St Basil church. A short history of the Light will be presented along with comments from city officials as well as the United States Coast Guard and the Government Service Association.
The present lighthouse was brought to South Haven in October of 1903 and assembly completed on November 13th 1903. The cast steel ring at the top of the tower was brought from Muskegon where it had been in service for 40 years. That ring came from France because at the time in history the US did not have the technology for that type of work. The lantern portion that contains the light is believed to have come from the original first lighthouse built in 1872. While it has been altered and relocated several times, it has remained mostly unchanged since the 1950.
When the Historical Association of South Haven discovered the iconic lighthouse was soon to be put up for sale and could be purchased by anyone hence making its' continued function questionable, they passionately committed to apply for the deed of the light structure . Next, realizing this needed to be a community endeavor, they established a pledge system whereby everyone can take part in keeping this important part of South Haven history accessible for generations to come .Not to their surprise , the community responded in force and it was full steam ahead for the lighthouse project. Finally, because of the efforts of so many, The Historical Association has succeeded in its goal to secure new ownership of the light on behalf of the community.
This is indeed a long awaited event and the Historical Association of South Haven is honored to be entrusted with its' new responsibility of helping to preserve a community treasure , "The Lighthouse ", that means so much to so many.