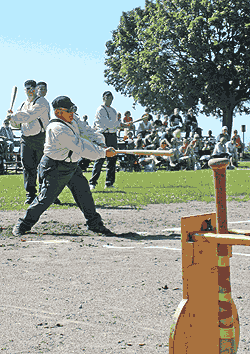 May 19th 2:00 pm
vs Douglas Dutchers @ Kid's Corner Field, South Haven
June 2nd 12:00 pm Three-way vs Kalamazoo Continentals vs Livery Brewers @ Kids Corner Field, South Haven
June 16th 5:00 pm
vs. House of David Echoes @ Kid's Corner Field, South Haven
June 23rd 12:00 pm Three-way vs Paw Paw Corkers vs Livery Brewers @ Kid's Corner Field, South Haven
July 4th 11:00 am Three-way vs House of David Echoes vs Livery Brewers @ Eastman Field, Benton Township
July 21st 1:00 pm
vs paw Paw Corkers double header @ Tyler Field, Paw Paw
August 4th 2:00 pm
vs Douglas Dutchers @ Beery Field, Douglas
August 11th 2:00 pm vs Livery Brew ers @ Kid's Corner, South Haven
August 18th 2:00 pm vs Kalamazoo Continentals @ Kalamazoo
For Further Information – barkpeelers@gmail.com
A History of Vintage Base Ball and the South Haven Bark Peelers
In 2009, with the sponsorship and financial backing of the Historical Association of South Haven and Albemarle Corporation, the Bark Peelers Vintage Base Ball Club was formed. The team is composed of 18 "gentlemen" from around the South Haven community who, although not necessarily great ballplayers, love the game of baseball and enjoy the opportunity to play. Vintage Base Ball recreates the way the game was played after the end of the Civil War.
After the end of the Civil War (1865), town teams would offer challenges to each other. Back in those days for one team to travel to a neighboring town was a real effort as roads were not well developed and the main mode of transportation was horse drawn wagons. The whole philosophy of being a host team in a Base Ball game in the 1860s was completely 180 degrees from what it is today. Because it was so difficult for teams to travel to another town to play Base Ball, it was the responsibility of the host team to ensure that the visiting team was treated with great civility and friendship. The host teams took great pride in their ability to be good hosts for the visitors. Host teams went out of their way to find accommodations and provide sumptuous meals for the visiting teams. This philosophy of being good hosts carried over into how the actual game was played. Players took great pride in being "gentlemanly". Some examples:
• No profanity or derogatory comments were aimed towards the visitors by either the host players or "cranks" (fans). This does not include good natured insults that are normal in this type of game.
• Both the players and the host "cranks" would applaud a good play or good hit by the visitors with a hearty "huzzah" or "well struck" as a sign of appreciation for the high quality of Bball that was being played
• There were no hard slides or any intentional physical contact with opposing players
• The batter indicated to the hurler where he wanted the pitch to be placed. The hurler than tried to throw the ball to that spot
• Players were expected to make their own calls on whether they were out or safe or whether they made a catch or not. The umpire was simply there to enforce the "rules of conduct" or resolve a play that was too close to call by the players
The Bark Peelers play their home games at Kids Corner Field at Monroe Park.
For more information, contact us at barkpeelers@gmail.com or call us at 269-208-4433.