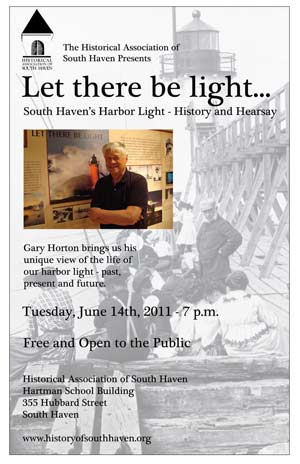 As part of its ongoing Membership Month of activities and drive to secure stewardship of our community's lighthouse, the Historical Association of South Haven will welcome native son, Gary Horton, who will give a power point lecture entitled: "LET THERE BE LIGHT: South Haven's Harbor Light History & Hearsay" on Wednesday, June 14 at 7:00 p.m.
Mr. Horton's talk will take a nostalgic look back at the history of the South Haven harbor light, how it got here, its importance to South Haven and what it has seen as guardian of our harbor entrance for the past 108 years. He will also include possibilities of what our light might expect in the future.
Gary Horton grew up in South Haven, graduated from South Haven High School and completed his education at Michigan State University. He has spent the past 30 years as a Creative Executive for such large advertising firms as Leo Burnett, Y & R and DMB&B – working in Detroit, Chicago and New York. He now splits his time between his home in Clarendon Hills, IL and South Haven.
Gary is a member of the Historical Association of South Haven, sat on the board for the Michigan Maritime Museum for ten years and was recently elected President of that organization. He has been a driving force behind their current exhibit, "Cruisin' Down the River".
"LET THERE BE LIGHT" will take place at the Historical Association of South Haven's building, located at 355 Hubbard St. It is a free event and open to the public.