Dear Friends,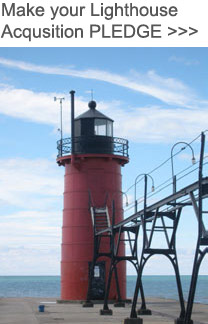 The South Haven lighthouse is the symbol of our maritime history and the iconic image of the bustling tourism industry that has been a cornerstone of our local economy. For vacationers it has provided the backdrop for fun excursions to the shores of Lake Michigan. For locals like us, it represents the endless summers of our childhoods and precious moments spent with family and friends, and it embodies everything we love about living in this small lakeshore community.
As you may have read recently in the newspaper, the U.S. Coast Guard no longer needs the lighthouse and is seeking a responsible party to take over ownership and ongoing care of the structure. The Historical Association of South Haven (HASH) has stepped forward to become the guardian of this important piece of local history. Our effort has the full support of the City of South Haven. The City Council recently passed a resolution stating that HASH's dedication to preserving local history, experience in restoring historical structures and strong volunteer base make it the best organization to take on the effort to preserve the lighthouse.
We believe we are ideally suited for this project, but we cannot do it without the help of our members and friends. Therefore, HASH is beginning a pledge drive to raise the funds necessary to maintain the lighthouse and to eventually complete a restoration, which is estimated to cost $350,000. While there is no cost to acquire the lighthouse, early pledges will aid in our application process by showing community support for this historical structure and by demonstrating that we have the financial resources necessary to maintain and restore it over time.
For more than a century South Haven residents and visitors alike have flocked to the beach to see the harbor light. Whether you enjoy it bathed in the glow of a summer sunset or frozen over by icy waters from the lake in mid-winter, we know you share our nostalgia for this light that is emblematic of our thriving community. We hope you will join us in our effort to preserve this historical landmark for future generations by completing the:
PLEDGE OF FUTURE FUNDS FORM >>>
Sincerely,
Jim Ollgaard – Roger Horton – Sue Frederick – Ed Appleyard
President – Vice President – Secretary – Treasurer
p.s. Please visit our Facebook page, Historical Association of South Haven to share what the lighthouse means to you and to keep abreast of our efforts to acquire the harbor light and raise the funds to restore it.